Hello everyone, in this new post I want to introduce about Vantum Network project, and for more details let's just go to the following discussion:
Vantum Network is an ethash algorithm chain that takes all of what Ethereum is and optimizes its features for practical mainstream adoption and day to day use.
The purpose of Vantum is not to simply create a better cryptocurrency, but to create a more useful blockchain that developers can utilize to build applications that bridge the gap between fiat transactions, and the faster, more secure cryptocurrency.
Initially, the Vantum Network will be targeting the corporate loyalty, gaming and educations segments for its first dApps, with plans to expand into further segments in future.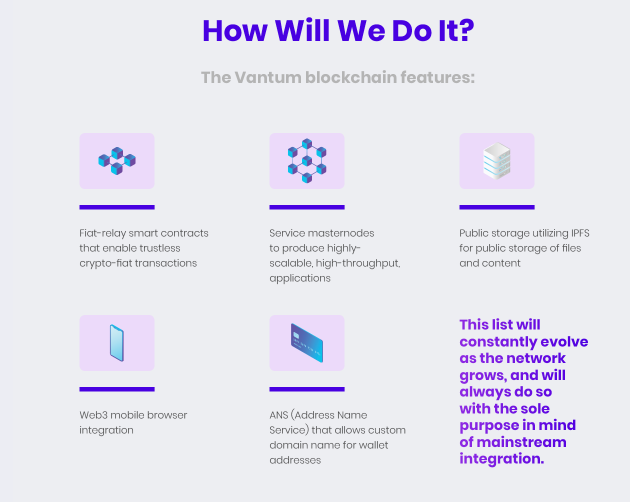 VANTUM NETWORKS WITH BLOCKCHAIN
The blockchain is useful for maintaining user privacy, but unfortunately, sometimes this image is considered as the preferred payment method for cybercriminals because the Bitcoin network node does not have to reveal the identity of the person making or Receiving payment. But right now I want to give a solution that can give you a satisfaction using blockchain and can be a tool of exchange that can be used anytime and anywhere you are a VANTUM platform.
The Vantum Network token sale is due to launch on the 20th of July, and will run until 1st October, 2018.
TOKEN SALES OF VANTUM NETWORKS
Token Symbols : VNT

Start Token Sale : July 20, 2018

Token Ended Sale : October 30, 2018

Token on sale : 2,500,000

Price Token: .00166 ETH

Max outstanding supply : 21,000,000

Pre-Sales Duration : 40 days
ROADMAP OF VANTUM NETWORKS
Q3 Whitepaper Development Website Release Pre-Sale & ICO Coin Distribution

Q4 Exchange Listings Mining Pool First Partnership Announcement Service Masternode Implementation First dApps begin development (VantX) Web Wallet Development

Q1 '19 Web3 Mobile Browser Vantum dApp store POS API Development Merchant whitelist open for registration

Q2 '19 VantX POS API Integration VantX Mobile App Beta Omnii VC Fund
VantX is the first decentralized application produced on the Vantum blockchain and built to enable both small and large businesses globally to engage with their customers in the crypto economy, whilst still earning its primary revenue in government-backed fiat currency. We do this by building a platform for the tokenization of corporate customer rewards and providing a system for interoperability between other corporate reward tokens on the network.
The Platform will earn feature an integrated Web3 browser.

A fully integrated mobile wallet for corporate rewards tokens as well as traditional cryptocurrencies

An online marketplace to purchase and spend rewards tokens and crypto.

The VantX app brings everything that the Vantum Network is to the hands of

Vantum Network users everywhere.
Vantum can also simplify every transaction anywhere, whenever you are in because this feature is optimized for mainstream adoption and can be used every day, vantum can also bridge all types of transactions using Blockchain and Cryptocurrency better.