Hello everyone in this article I will present an interesting ICO analysis, called Zan Coin, based on some of the following criteria:
What is ZAN Coin?
They are a Consultant Company that employs Free Software Developers to work on certain projects that exist for them. Instead, ZAN Coin pays their Freelance Software Developer for the services provided on each project. With various "Freelancers" abroad, located / residing in different countries, it places obstacles on the way for ZAN Coin to make timely affordable payments to their many "Freelancers".
So they agree, unite their minds to create solutions to the problems they face with their existing models, structures, and business procedures. As we know, for any company to remain successful, they must adapt to an ever-changing environment, create solutions to existing problems, and always reduce expenses to own / run a business. To solve this problem, they come together and create solutions to the problems they face. So, create a ZAN Coin.
With the creation of ZAN Coin, they will not only solve problems with timely payments, but they will also target the other three main points.
Motivation "Freelancer" to provide the best in developing software for important ZAN Coin projects.

Buy-Back Options. They will buy back ZAN to keep the coins in circulation for cash flow and price growth.

Dividends from each product sale. They will take 50% of product sales, pay developers and coin holders in ZAN Coin. All holders of ZAN Coin will receive dividends, payable in ZAN, only to hold the coins. They will be paid "Pro-rata" in ZAN, on ZAN's current investor holdings, when dividends are paid.
The purpose behind ZAN Coin:
The ultimate goal is to grow and develop as a Consultant Firm that is legal and highly successful. They not only want growth for their business, but they want all their Freelance Developers and Freelance investors to be prosperous as well. With this important goal, ZAN's life cycle will get everyone involved successfully. Investors will create more capital to improve project development. Developers will work more efficiently, harder, and faster to create excellent products to increase sales. Thus, creating higher sales volumes and creating more profits for all holders of ZAN Coin.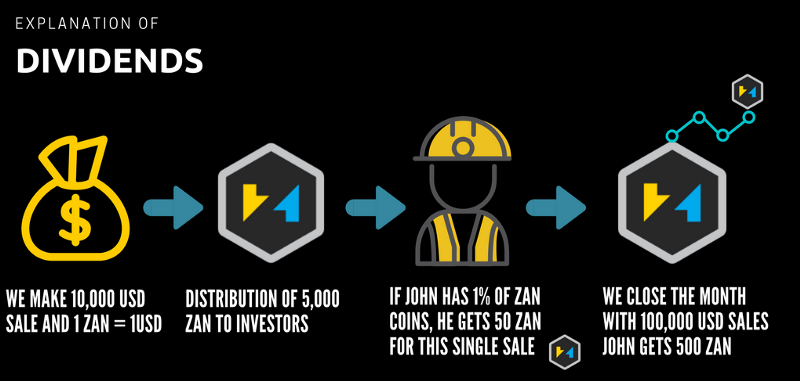 ZAN Coin Specs:
Contract Address ZAN- 0xbef51888af40d73db76a7716c98bdfe979040f8d Decimal- 18
How to buy ZAN Coin?
Currently, the only way to buy ZAN Coin is through their ICO. ICO begins May 15, 2018.
Presale: 1 ETH = 1500 ZAN, Presale ends May 22, 2018

Round 1: 1 ETH = 1200 ZAN, end time, TBD

Round 2: 1 ETH = 900 ZAN, end time, TBD

5% Referrals: Users can view referral links on the user's profile page.

ZAN Coin Supply: 17.148.385
ZAN Coin Distribution:
Investor-allocation 70%: 12,003,870
Coin Affiliates and Bounty-allocation 10%: 1,714,838
Coin Founder-15% allocation: 2,572,257 Reserve-
Do not just read it, save the preferred launch date and act on it right now.
For more information: