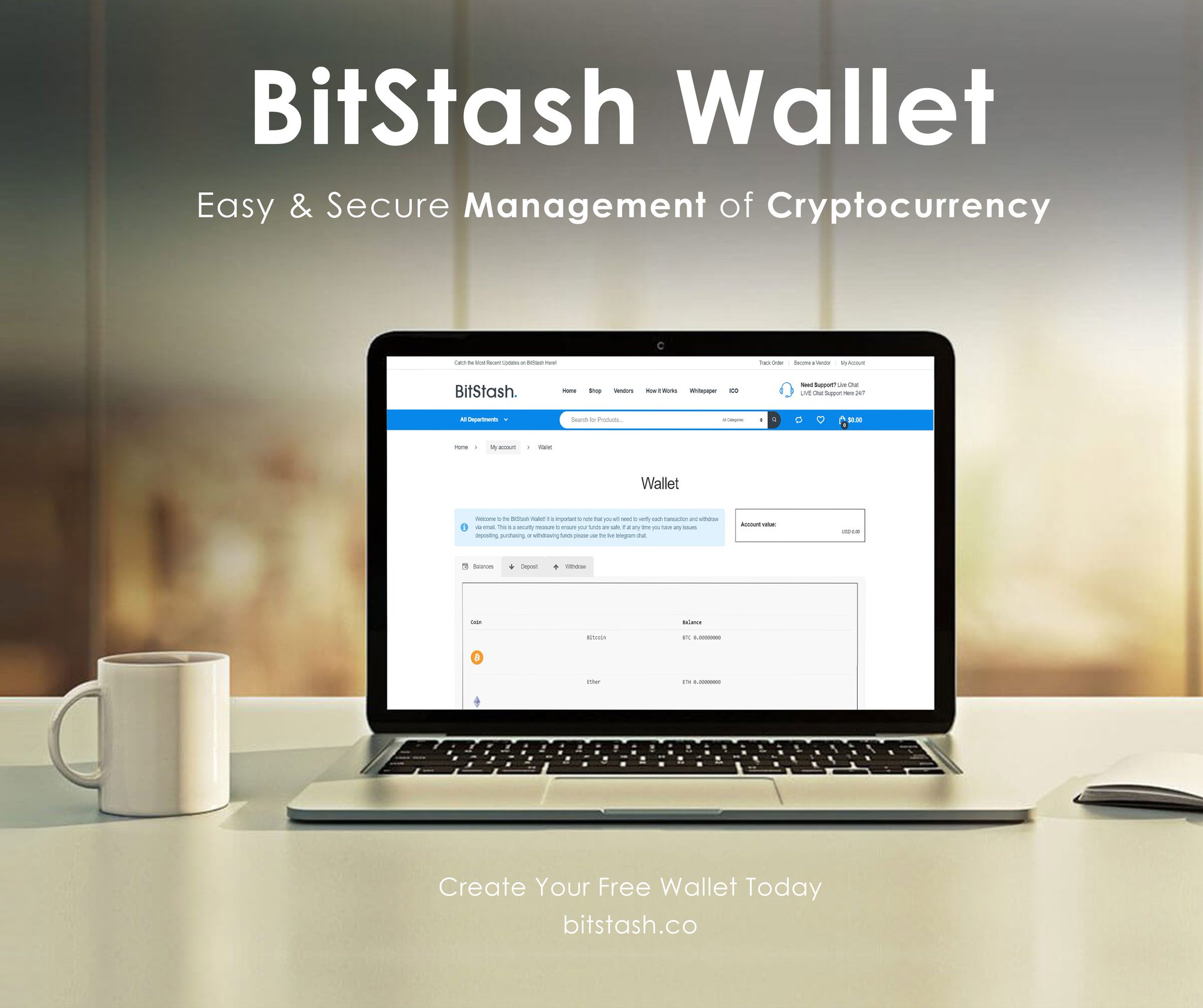 Hello everybody, this new dipostingan I want to introduce about Bitstash project, and for more details let's just go to the following discussion:
BitStash is a peer to peer (P2P) crypto commerce marketplace which enables buyers and sellers to purchase or list products, goods or services.The BitStash platform provides a simple and secure marketplace for users to freely transact between each other seamlessly and with the trust and protection our escrow system provides.
First you will need to create an account and wallet on BitStash. Create your account by clicking below. Once you have created your account and wallet, you will need to fund your BitStash wallet which is used to purchase products. We have a secure escrow system in place to ensure delivery of items or refund if necessary.
Making a purchase is easy with BitStash. Simply visit the store and search for products you like or wish to own. You can sort by vendor, brand, price, and many more options. We recommend to buy from "Verified Vendors" these merchants have been reviewed by our team and are authentic and trusted vendors.
Upon receiving your product it is highly recommended to leave a review about your experience. Our marketplace is driven by reviews of trusted members within our community. Additionally if any issues arise with your order we have a Refund Policy & our secure escrow system to provide a full refund.
BitStash Marketplace Features
Learn about the benefits and features of the BitStash Marketplace and why you should join our growing community!
No downloads required to start using BitStash. Easily create an account today and start buying or selling!
Use our intuitive search engine on BitStash. Browse by Brand, Color, Size, and various other options.
With BitStash you can easily earn and spend cryptocurrency from your wallet within the My Account section.
Every transaction is placed within our Secure Escrow System until an order can be verified as completed.
Have different colors for the same product? What about different prices and sizes? Easily add them with Variations.
Set your available product quality to ensure you don't oversell products or run out of your available stock.
As a seller you set your shipping locations, pricing, and options. Including your return policy (which is recommended).
Easily manage all your orders on BitStash, plus receive in-depth analytics and reports on your available products.
Browse the available categories on the BitStash Marketplace for Cryptocurrency.
Cryptocurrencies Accepted on BitStash
View the Available Cryptocurrencies you can use on BitStash. Plus receive your own private and secure cryptocurrency wallet.
Bitcoin : Every member has their own private and secure Bitcoin Wallet.

Ethereum : Every member has their own private and secure Ethereum Wallet.

Ripple : Every member has their own private and secure Ripple Wallet.

Litecoin - Coming Soon : Every member will have their own private and secure Litecoin Wallet.

Monero - Coming Soon : Every member will have their own private and secure Monero Wallet.

STASH - Coming Soon : Every member will have their own private and secure STASH Wallet.
Crowdsale Dates, Token Details, & Allocations
Find all the token details and facts about BitStash and the STASH Token here. Additionally please take a moment to review our whitepaper as well here.
Total Supply: 36,000,000,000 STASH
Token Price: 1 ETH = 600,000 STASH
Bonus Levels: Level 1 30% Bonus (First 100 ETH); Level 2 20% (First 500 ETH); Level 3 10% (First 1,000 ETH); Level 4 5% (First 10,000 ETH); Level 5 3% (First 20,000 ETH)
Receive discounts at checkout when purchasing with STASH Tokens.
STASH Token holders receive quarterly airdrops from marketplace fees (10%).
STASH soon can be used to buy items on the marketplace.
STASH will have it's own internal cryptocurrency exchange.
STASH Tokens will be listed on top exchanges after ICO.
STASH Token Contract Address:
0xf19903d8e5b7d604b62d2a210b39ba9e1e1f93ef
The following address is for the STASH token contract. It is NOT a deposit address. Do NOT send tokens to it. To deposit, use the Deposit form in the Tokensale platform.