Lunes is a decentralized flatform of your finances with today's global technology-based systems. It offers and gives you the convenience, speed in transacting with the security of blockchain technology systems.
Lunes is a digital coin based on blockchain technology but also provides solutions to financial problems and evidence of authenticity issues. The growth of cryptocurrency usage increases exponentially and is adopted worldwide. There are already 18.5 million Blockchain.info wallets and 12 million Coinbase users. As blockchain technology continues to be adopted, crypto cardiac growth will increase even more. However, the market today is not user-friendly and easily accessible to many people.
Why lunes?
Lunes has a future of all the ico I follow I'm very sure lunes can be a great success in view of all the preparations and what they offer is really different from other ico project
Differences lunes from other ico
Lunes really in running the project can be proof of their sincerity by launching wallet lunes
And you can download its application
Available and can be downloaded at:
Web

Playstore

Ios

Desktop
Another advantage you do not have to wait long to make buying and selling transactions after ico sssa
LUNES TRUTH
The digital office list, which uses powerful blockchain, allows users to record authenticity in a safe, fast and decentralized way. Through Lunes Truth, you will be able to create contract records using digital signatures, in addition to contracting efficiently in a few steps. Users may also launch a contract on the platform where the signer can authenticate in the blockchain of lunes. -
Another example of the plurality of Lunes Truth application services is the validation of certificates by schools, courses and training
STARTING POINT
This is an innovative voting system where people can validate ideas and receive gratuities. This portal offers a token and coin evaluation structure for exchanges, rules and scrolls for ICO, and other features like token creation.
LUNES MARKET
Decentralized exchange that brings together P2P transactions and cryptographic trade, with low cost and high security.
ANY ROADMAP FROM PLATFORM LUNES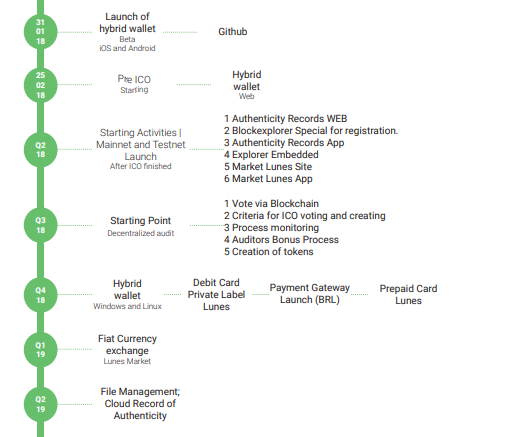 Details of LUNES Token
allocation of Lunes tokens ie The number of coins made for the Lunes Platform is 600 million. No more tokens will be made .21% coins are used for development teams, company cashiers for future investments, community awards for social networking, and a partnership consolidation process.79% will be available for ICO
Reserve fund - LNS 102 million - (17%)
Strategic partner - LNS 7 million - (1.16%)
Lunes development team - LNS 15 million - (2.5%)
Bounty - LNS 2 million - (0.34%)
Batch for distribution Pre-ICO / ICO - LNS 474 million - (79%)
Pre-ICO: 25 February to 30 March
10 million $ 0.01 + 30% bonus | Limit of 30 thousand per investor
100 million $ 0.08 + 20% bonus | Limit 5 Million per investor
200 million $ 0.15 + 10% bonus | 8 Million limit per investor
164 million bonus $ 0.30 + 5% | 10 million limit per investor
There will be no minimum purchase requirement so that various investors will be able to buy and participate in ICO. On the other hand, there will be a maximumPurchase that will limit the number of tokens that can be bought by investors.
For more information and joining Lunes social media at this time please follow some of the following sources:
WEBSITE || WHITEPAPER || FACEBOOK || TWITTER || TELEGRAM ||
The bitcointalk name: Aray80